---
By DullesMoms, Aug 2023
Susan Gill's Just Between Friends of Loudoun gives parents an easy way to save, make money, and recycle!
In 2009, Susan Gill had her hands full with two daughters in daycare and a day job as a software engineer. But she was missing a connection with her community. Since Susan loved thrifting for her daughters, she decided to buy a Just Between Friends franchise in Loudoun, Virginia.
• Check It Out: Upcoming Consignment Sales
The pop-up children's consignment event lets Susan and other parents make money reselling items their kids don't need anymore and save up to 90% off retail buying what they want. Mainly, Just Between Friends gave Susan a way to give back and help other parents.
"This is my way of connecting with the community, connecting with all kinds of demographics and cultures, and making new friends," says Susan Gill, event coordinator of Just Between Friends Loudoun and mom of two girls.
"Many people have been with us for years selling or helping out at the sale, and we've become friends outside of the event. It's been fun to establish new friendships, especially with other moms, and make a difference for their families."
Susan's Just Between Friends events are held twice yearly at the Dulles Sportsplex. In 14 years, she and her husband have grown the event from the size of one basketball court to 80,000 square feet, or the size of a hockey arena and three soccer fields combined.
---
Continue reading after image (click to enlarge)…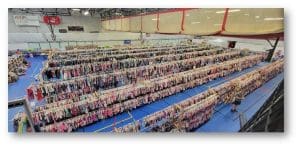 ---
Hundreds of parents from Virginia, Washington, DC, and Maryland consign their children's gently used items like clothing, shoes, costumes, toys, books, beds, bikes, and everything imaginable from maternity through teenage years. Many others who shop at the event get huge savings on items their kids may only use or wear once or twice before they outgrow them. Susan recalls her daughters getting a pair of Uggs for only $13.
JBF is about more than just money. Susan says most shoppers and sellers today care about the environment and want an easy way to help protect the planet.
The EPA says each of us throws away about 100 pounds of clothes yearly. Nationwide, that's about 2,150 pieces of clothing every second. Recycling 2.3 million tons of apparel annually equals taking 1.3 million cars off the road.
"JBF brings people together who care about protecting our planet and recycling. It gives each of us a way to fight back and make a small difference that will add up over time," says Susan.
"It's pretty spectacular that all in one weekend, you can drop everything off that your kids don't want or outgrew and sell it. Then, you can turn around and buy things they need for bargains. That's recycling at its best."
Susan bought her daughter a Nemo costume for Halloween one year. Then, she sold it at the next sale to another family. That means at least three children wore the Nemo costume and got joy out of it, something Susan says is genuinely going "full circle."
Just one JBF Loudoun event is expected to keep about 20 tons of plastics and clothing out of landfills.
Susan donates many items from the sale to the local charity Homestretch and Creative Cauldron. That means sellers are helping local charities and can also get a tax deduction. Susan says the average consignor check is more than $400 per event.
Susan's JBF event in Loudoun helps parents make green, save green, and be green. Learn more about Just Between Friends events in Loudoun online.