---
By Erin Gifford, Apr 2022
Erin Gifford is the author of Hiking with Kids Virginia: 52 Hikes for Families (FalconGuides). She also shares top hikes across the state for all levels on her website at GoHikeVirginia.com (plus, get social: Facebook • Twitter • Instagram).
I've lived in Virginia for a very long time. Yet, it wasn't until the pandemic started that I really began to venture out into my own backyard in Loudoun County. Even all across Northern Virginia, exploring various state parks, green spaces, reservoirs, and hiking trails.
I had no idea that the Appalachian Trail could be picked up 30 minutes from my house in Ashburn. Soon, I was setting out every other day, often with my kids in tow, to see what there was to see. In Northern Virginia alone, there's a lot to see and love, including many miles of hiking trails.
Then, I wrote a book, Hiking with Kids Virginia: 52 Hikes for Families, to share with fellow moms and dads where to get outside with their own kids in our state. As we all look to get outdoors more, here are eight of my favorite local family hikes.
---
Bears Den
Bluemont, VA
The hike to Bears Den Overlook starts from a large parking area on Route 7 in Bluemont. Don't be fooled, friends. The lot is large, but it can fill up quickly on fair-weather weekends. A forested connector trail leads to the iconic, white-blazed Appalachian Trail.
From here, it's less than .5 miles to the west-facing Bears Den Overlook, which is the place to be for vibrantly-colored sunsets across the mountains. If you opt for a sunset hike, be sure to bring headlamps to light your way back to your car. This easy hike is less than 2 miles round-trip.
Continue reading after image (click to enlarge)…

---
Riverbend Park to Great Falls
Great Falls, VA
Great Falls Park has long been a popular destination for families thanks to its massive green space filled with a sea of picnic tables and three dreamy overlooks for ogling its namesake falls. There are hiking trails at this national park, of course, but it's also fun to hike in from Riverbend Park.
Riverbend Park is north of Great Falls Park and also sits on the banks of the Potomac River. An easy 1.8-mile hike (one-way) on the Potomac Heritage Trail leads to the waterfall overlooks. Plan to scramble rocks and cross wooden bridges. Stop for views at the Washington Aqueduct Dam.
Continue reading after image (click to enlarge)…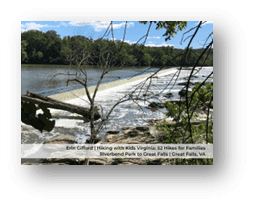 ---
Turkey Run Park
Mclean, VA
The 3.9-mile loop hike at Turkey Run Park is a true favorite for kids, thanks to super-size boulders, splashy water crossings, and rock scrambles. Essentially located under the George Washington Memorial Parkway, you kind of have to know that it's there.
The hike starts with a descent down at least 100 steps. Revel in all the refreshing views across the Potomac River before crossing Turkey Run. Plan to traverse a ravine on a three-inch-wide board, scramble rocks at Dead Run, and enjoy cascades and waterfalls before the end of this hike.
Continue reading after image (click to enlarge)…

---
Theodore Roosevelt Island
Arlington, VA
The 1.9-mile loop hike along the perimeter of 89-acre Theodore Roosevelt Island starts in Arlington, though the island is officially located in Washington, DC. Still, it's a kid-friendly hike with plenty of views and lots of education on our 26th president, Theodore Roosevelt.
The focal point is a 17-foot-tall bronze statue of President Theodore Roosevelt. You'll also see four 21-foot-tall granite tablets inscribed with famous quotes. Bring your bikes or rent them from Capital Bikeshare. It's a short three-mile bike ride to Gravelly Point Park to watch the planes land.
---
Bull Run Mountains Natural Area Preserve
Broad Run, VA
There are three family-friendly hiking trails at Bull Run Mountains Natural Area Preserve in Broad Run. They are the Beech Ridge Loop (Yellow), Fern Hollow Loop (Green), and Dawson's Trail (Red). The 3.4-mile Fern Hollow Loop takes you all the way around the nature preserve.
There's a lot to see on a forested hike, including a former ice house, an old wooden home, an abandoned mill, and historic family cemeteries (on Dawson's Trail). Keep in mind that this natural area is only open to visitors on Fridays, Saturdays, and Sundays.
---
First Battle of Manassas Trail
Manassas, VA
When you want to get the kids outside, and you want to inject some education into a hike, look to Manassas National Battlefield Park. It's such a two-for-one deal. On arrival, pick up Junior Ranger activity booklets in the park visitor center so your kids can earn a Junior Ranger badge.
A hike along the 5.5-mile First Battle of Manassas Trail starts just behind the visitor center. It's hard to fathom that Union and Confederate armies clashed here more than 150 years ago, firing cannons and shooting rifles. Take time to explore field artillery along the battlefield trail.
---
Birch Bluff-Laurel Trail Loop
Triangle, VA
Prince William Forest Park in Triangle is a hidden gem that's home to more than a dozen wooded trails, including the Laurel Trail Loop and Birch Bluff Trail. This easy 2.2-mile loop hike begins behind the park visitor center. Follow the yellow blazes, but keep your eyes open.
A short .4 miles into the hike, turn right onto the red-blazed Birch Bluff Trail. Kids will love watching the cascades and playing on a small rocky beach area along South Fork Quantico Creek. The hike ends at a section of picnic tables and a colorful playground for children.
---
Conway Robinson Forest
Gainesville, VA
At 444-acre Conway Robinson State Forest, you can step foot on all four marked trails (Red, Orange, Yellow, Blue) or stick to the Blue Trail to circumnavigate the entire park. The 3.3-mile Blue Trail includes a walk through a large grove of old-growth hardwood trees.
Near the end of a clockwise hike on the Blue Trail, prepare to be entranced by a picturesque tunnel of towering loblolly pines and white pines. Bring a picnic lunch. There are plenty of picnic tables, as well as a welcome green space to let the kids run around after the hike.
---
Discover more great opportunities to explore the beauty of Virginia! Check out Hiking with Kids Virginia: 52 Hikes for Families and visit GoHikeVirginia.com.

---
Disclaimer: Events/opportunities are curated from public sources and are subject to changes/cancelations that might not be reflected on DullesMoms.com.
#NOVAFamilyHikes